Do I need dynasty estate planning?
---
Dynasty Planning connects a person's desire for strong family relationships and wealth preservation in a way that allows for the assets in the family to foster positive growth for multiple generations. Whether you have a small nest egg or multiple millions, Dynasty Planning may be your next best move. Learn more here: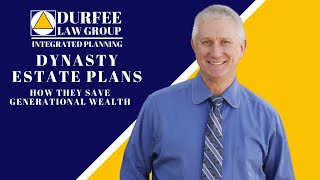 ---
How do I know if I need a will or a trust?
---
Typically, if you own your home (even if you owe money on it to the bank), you would do well to have a trust. If you don't own a home and don't have personal property with values exceeding $75,000 or real estate exceeding $100,000, then a will may be sufficient for your needs.
---
Do you do trust administration and probate law?
---
Yes. Trust administration is essentially the accounting of a person's assets upon their death and distributing them to the intended beneficiaries as set forth in the decedent's Trust. Probate is the accounting of a person's assets upon their death through the court system, which requires differing degrees of supervision by the court depending on whether it is a formal or informal probate. We do all of these.
---
Do you have to be a millionaire to have an estate plan?
---
No. Many people don't realize that everyone benefits from having an estate plan. An estate is what you own. If what you own is a car, clothes and some jewelry (and no other items or property), then that is your estate. People have motivated their friends and loved ones by leaving objects behind as a memory of their affections. For example, a mother may leave a baseball to her son and let him know that she always enjoyed watching him play. It is also true that some people have several millions of assets in their estate. Whether you have a few items or millions in assets, Durfee Law Group can help with your estate plan.
---
What documents are included in a typical estate plan?
---
Most estate plans have what we call "basic documents". These include
Last Will and testament
Durable Financial Power of Attorney
Durable Healthcare Power of Attorney and
Living Will.
If you own a home and/or have other assets (business interests, real estate, highly appreciated art, or expensive jewelry), a Revocable Living Dynasty Trust should be a part of your estate plan. This means that you would have a Revocable Living Dynasty Trust and the basic documents. More advanced estate planning takes place when you have several business interests and/or own lots of real estate. We provide a free consultation. Whether you have a simple estate, or millions in assets, we can help.
---
---